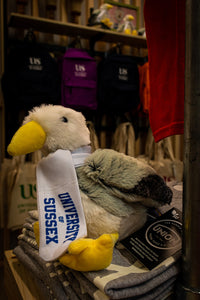 *New*
One of our new additions to our soft toy range!
We couldn't have a range of campus-animals soft toys without the iconic seagull!

From Albion football team, stealing your chips on the beach or squawking at you wanting your food. 
Sami, one of the most common sights Brighton and even when you can't see them, you most certainly can hear them!
*Colours on a monitor may vary from the actual colour of the product. - We've tried our very best to capture them just right - thanks to our wonderful photographers